Chapter 2 – The Women They Come and Go
"he made his way across the square to the edge of the Montmartre, where he looked out over Paris, shining in the noon day sun"
View of Paris from Montmartre looking south-west over St. Denis. Today, of course, there are no more factories streaming smoke, but in Lucien's day, there would have been dozens of smoke stacks, and you see that in a lot of Impressionist paintings.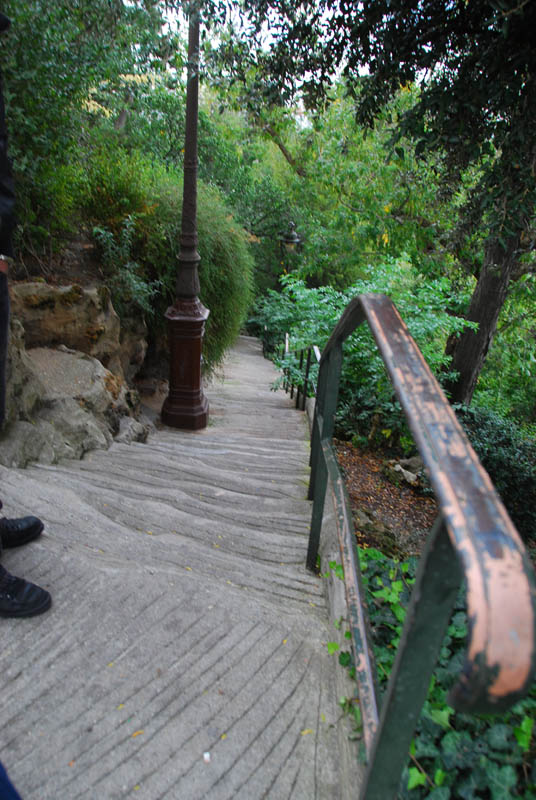 Stairs today leading down the back side of Montmartre to Rue Caulincourt, where Henri and Lucien kept their studio.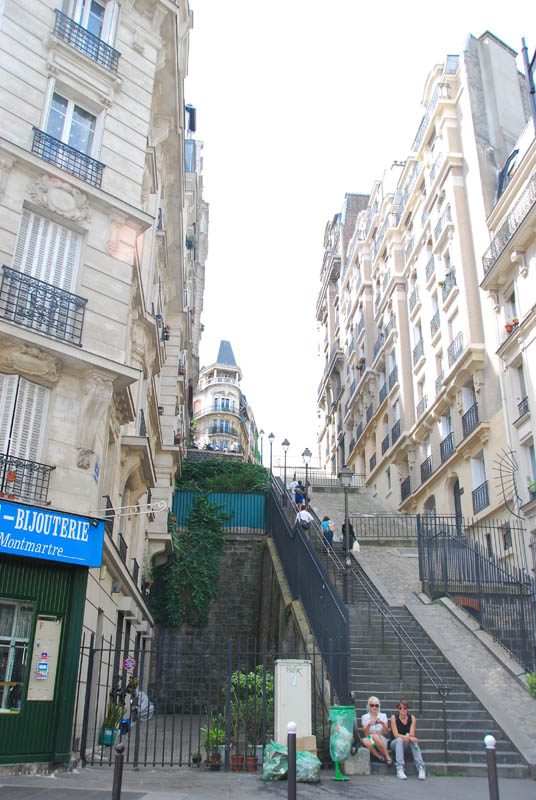 "Lucien set off down the two-hundred and forty-two steps to that very same boulevard into the neighborhood around Place Pigalle"
The stairs from Montmartre to Place Pigalle today. Lucien would have been coming from even higher on the butte than this picture shows.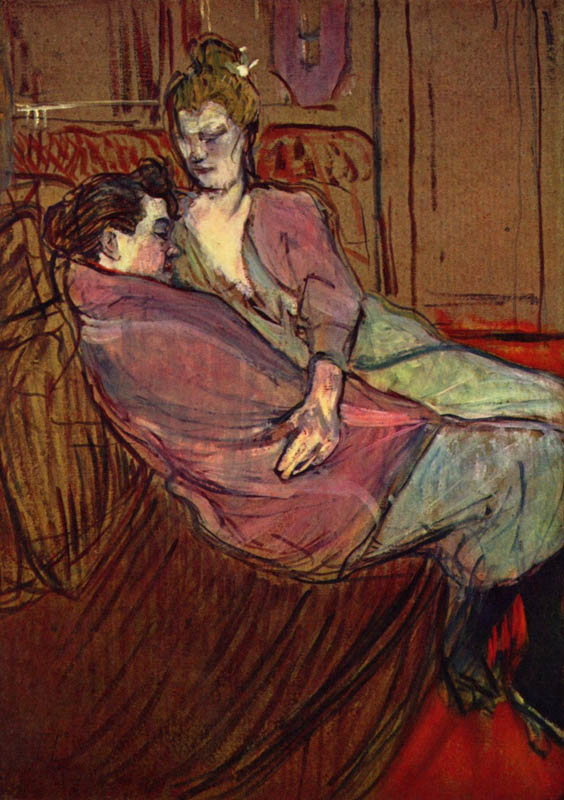 "In the salon of the brothel on Rue d'Aboise, a girl in a red negligee who had been dozing on a velvet divan when he came in…"
Two Friends – Henri Toulouse-Lautrec
Place Pigalle, which was alive with cafés, brothels, cabarets, and on some mornings, the "parade of models" around the fountain in the square.
Place Pigalle – Felix Buhot – 1878
You can see the fought on the right.
"I will vouch for that," said Mireille, who scampered away, puffing
like a tiny marshmallow locomotive. "He loves that fucking hat."
Drawing by Elias D'Elia
Eli drew this cartoon for me, but he came up with a much more 21st Century cute Mireille than the real one, as you'll see below…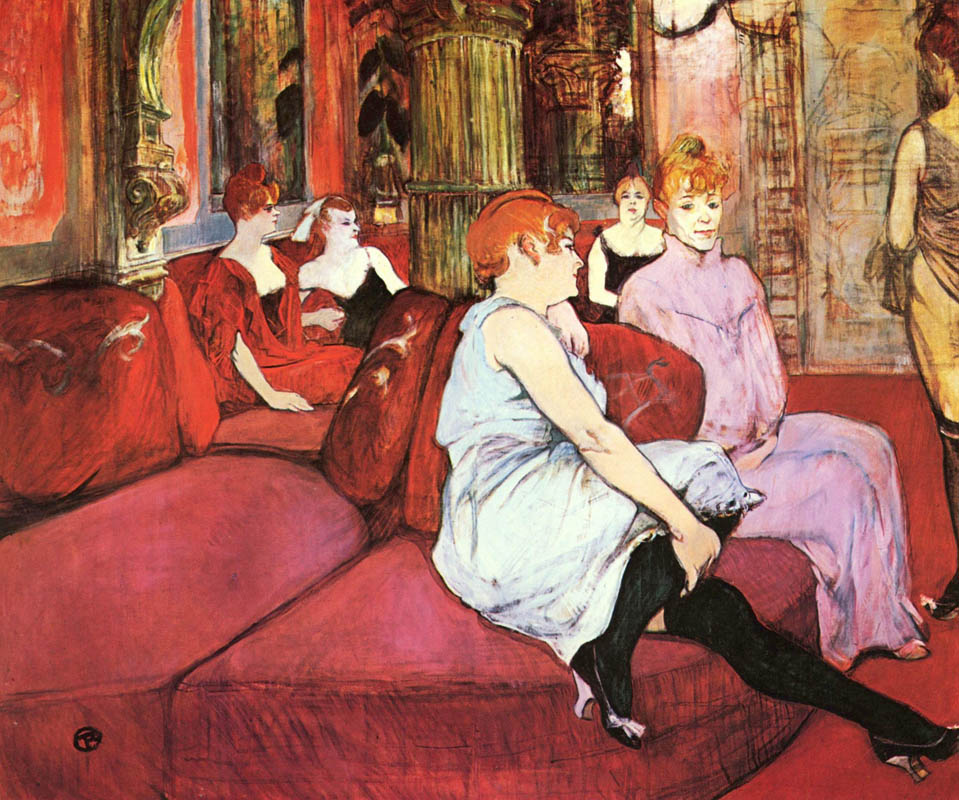 "Lucien was anxious waiting among the whores."
Parlor of a Brothel – Henri Toulouse-Lautrec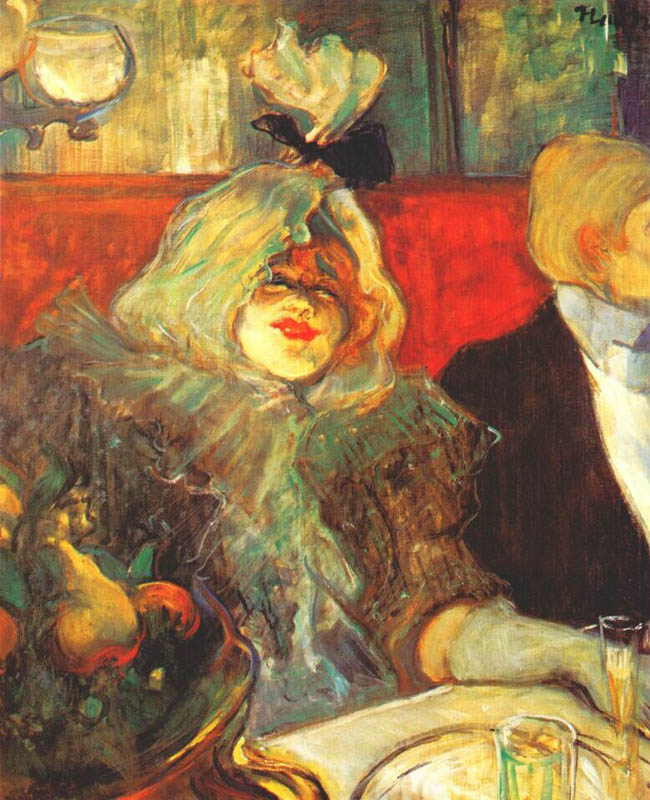 "I know you," said the round blond. "You're Monsieur Lessard, the baker."
In Le Rat Mort – Henri Toulouse-Lautrec
This painting was actually of a patron of the restaurant Dead Rat, described in the scene where Henri and Lucien go to breakfast, but I found the image after I had already written the brothel scene and it was uncanny how close the woman was to the whore I described, so it went into the book. I realized later when I went through my photos, that I'd seen this painting in the Courtauld Gallery in London, so maybe it had stuck in my mind.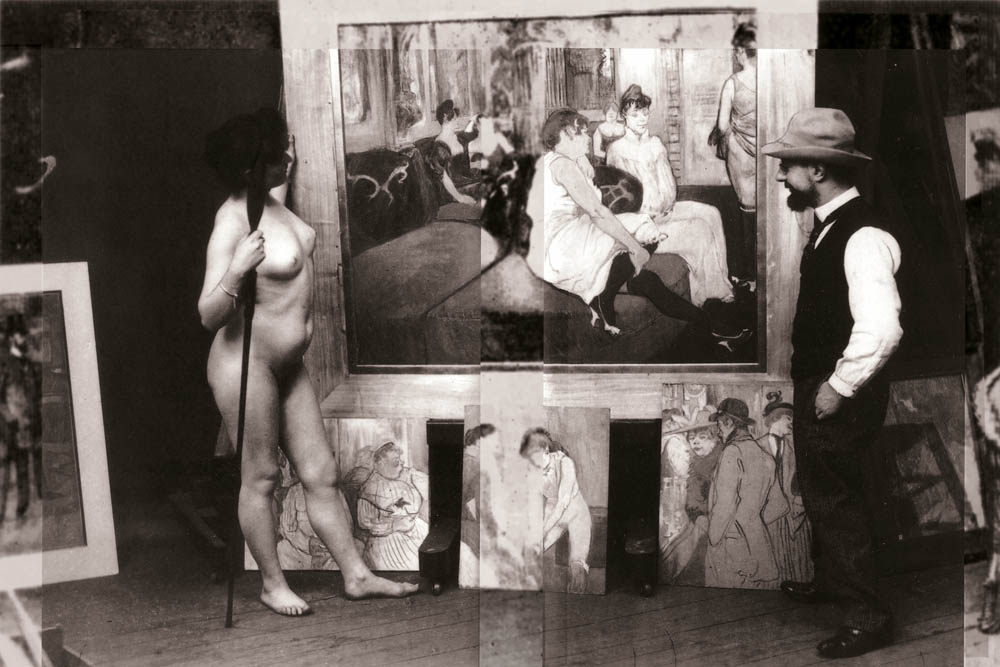 Mirielle and Henri Toulouse-Lautrec, with a collection of his brothel paintings. As you can see, Mireille, was, indeed, as tiny as Henri, and she was reputed to be his favorite.Photo by Henri's friend, Maurice Guilbert, who we'll see more from later.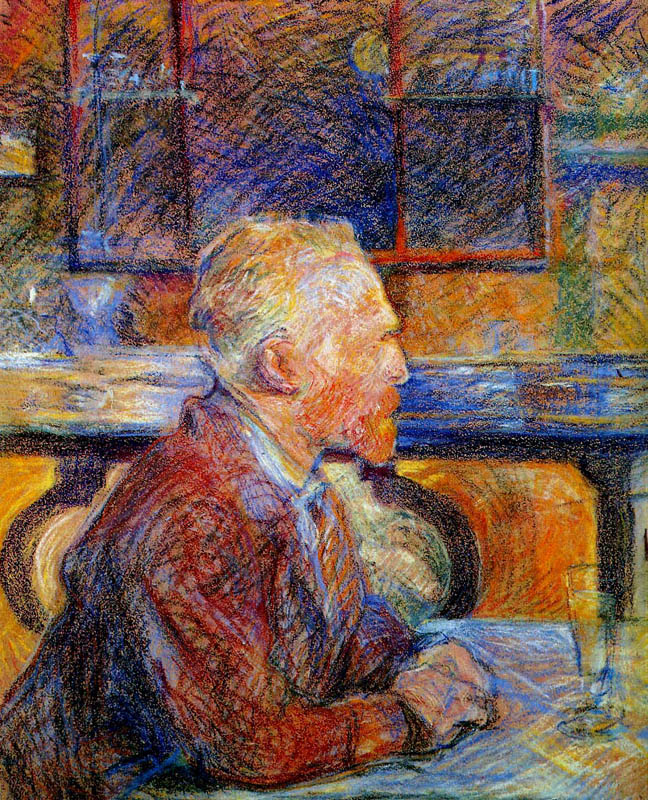 "They had both attended Corman's studio with Vincent, painted along side of him, drank, laughed, and argued color theory with him in the cafes of Montmartre."
Vincent Van Gogh – by Henri Toulouse-Lautrec – 1886 or 87 when they were all studying at Corman's Studio.