Bon Jour, my slippery pamplemousses, here, as promised, is more art from the Louvre. Today, we start with pieces from the French sculpture collection.
This, very lifelike piece is

"I'm 'bout to lick your bald head."
Is by Pierre August Rodin, from 1891
This one, from Felix Lecompte, is from 1868, commissioned by the Royal Academie, it's

"Look, I found this kid hanging on a Tree."
Here's a closer look.
Is this guy hanging the kid on the tree, or picking the kid off the tree? Is he trying to breast feed it and thinks it will be easier if the kid's feet are tied to a branch? This is a confused sculpture. I'm confused.
We'll never know.
Most, if not all pieces commissioned by the Académie, had to have Mythical Subjects. It was the same with the painting and the Acadamie and the Salon, which were more or less the voices of art of the time. You could paint or sculpt the most heinous or erotic stuff, but it couldn't be real. It it had to be myth. One of the most popular motifs was Leda and the Swan, in which the God Zeus comes to Leda in the form of a swan, shags her, then she lays two eggs, from which hatch Helen and Polydeuces, (the latter named for his incredibly horrible luck at dice). Funny, you never see any paintings of Leda laying the eggs, only shagging the swan. Makes you wonder. Anyway, here's one where it doesn't look like Leda is going to resist that much.
Jean Thierry's work in marble from 1714,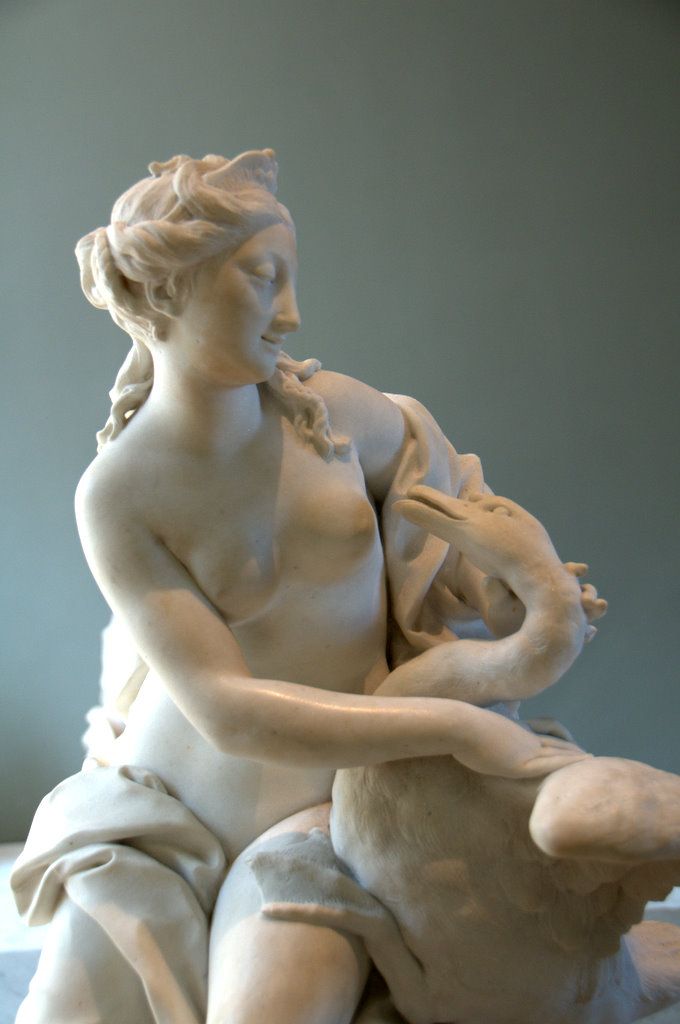 "Bring a Sweater, Daffy, 'Cause I am Going to Fuck the Feathers Off of You."
A compelling theme, don't you think? Go ahead, say it. You know you're thinking it.
There, that's the release that fine art gives the soul.
Here's one by Edme Dumont, from 1753, and it's either Cronos or Hercules,
but the title is.


"Sigfrid, bring the stun gun!"
It's very mysterious. The subtitle is: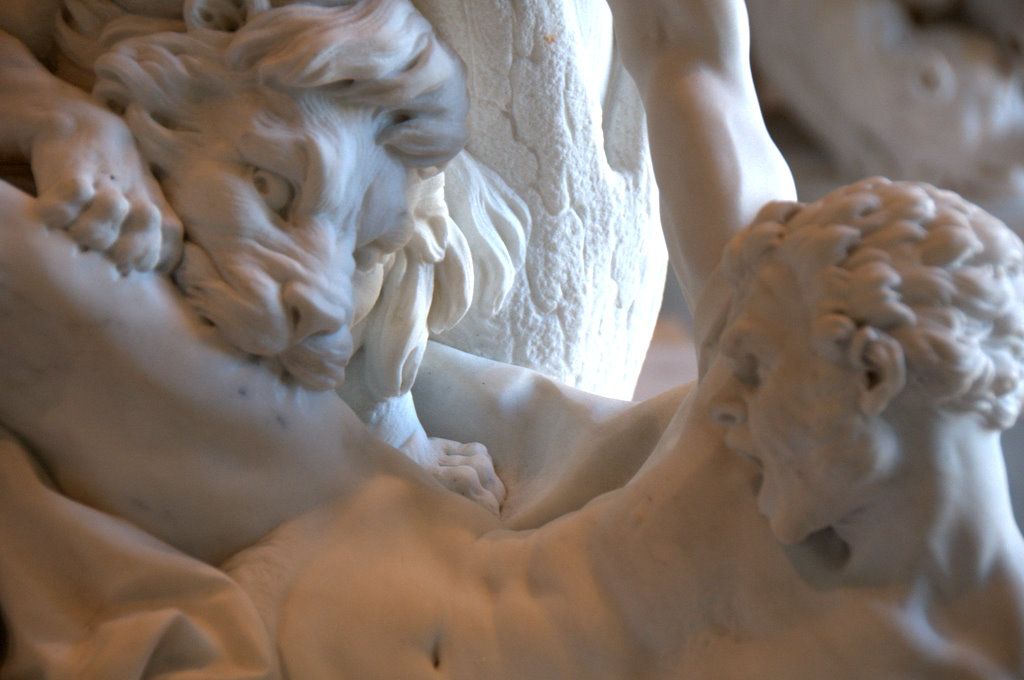 "Dude, I'm serious. He's biting my fucking Leg!"
Of course my translation may be off somewhat. It may be, "Le Dude".
This is one of my favorite sculptures in the Louvre. Really. It's by Francios Joeffry, from 1839, it's a sculpture of Venus, called.

"About your Operation, I've Got Some Good News and Some and Some Bad News"

It would be 40 years before Degas would exhibit his sculpture of a fully-clothed dancer of the same age with the Impressionists, and it would considered an outrage, obscene, because, well, because she was real. Things were going to change in art, and it was going to be a big deal, the beginning of Modern Art, which I'll catch you up on.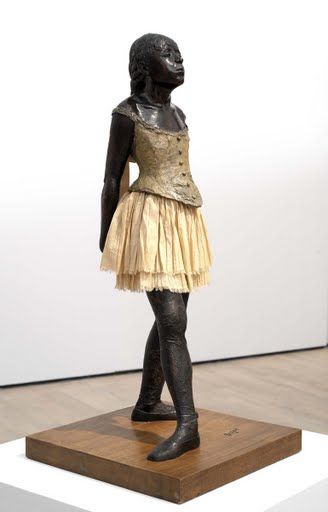 Degas "Little Dancer, Age 14" 1881 (Not in the Louvre
Hang tough. Here's a couple other pieces that caught my eye.
In this piece from 1782, Claude MICHEL dit CLODION needed to fill a long base-relief, so he just threw in myths until the panel was filled up. It's Venus, Cupid, Cherubs, Nymphs, all kinds of stuff. I like to call it:


LESBIAN SPANK INFERNO!
(with deference to Stephen Moffat and BBC's Coupling – a hilarious episode, by the way, if you get a chance to see it.)
But who is this?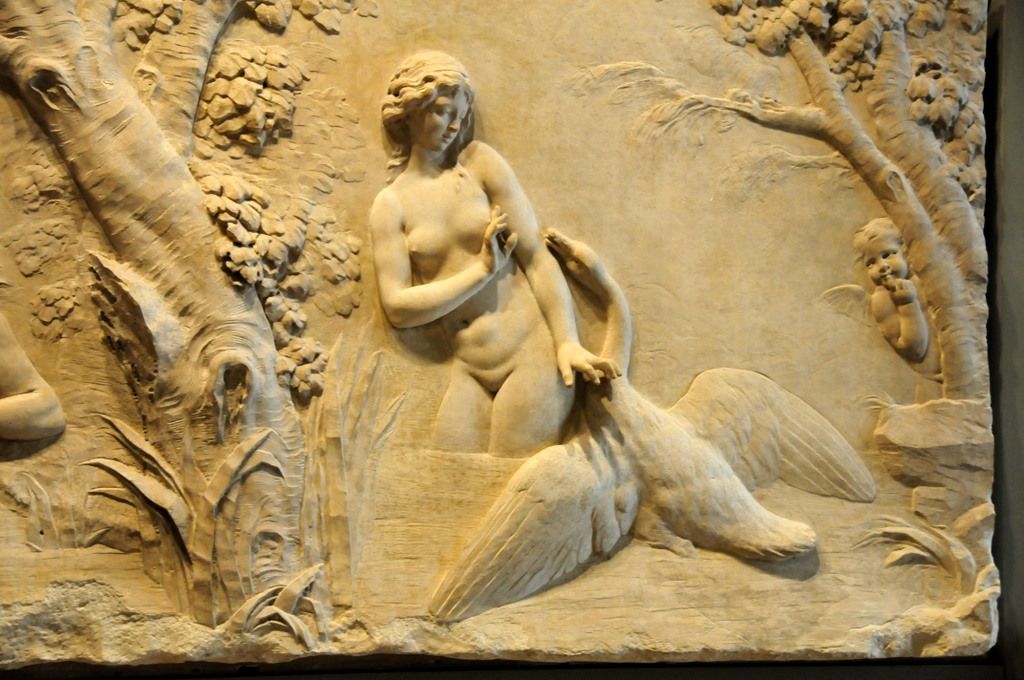 DUCK SLUT!
Yes, Leda again. Being a little more coy.
Like she's going to make the swan buy her dinner this time.
But back to painting for a bit. As you've probably gleaned from my posts, I only know how to say about six things in French. One of them, which seemed somewhat useless, was "The Monkey is on the Table."*
So, imagine my ecstasy, when, while coming up a wide staircase in the Louvre, I happened onto this:


Deux Singes sont sur la Table!
I stood there, middle of the staircase, pointing out to people who passed, that there were, indeed, two monkeys on the table. In perfect fucking French. Really? Would you like to discuss the monkeys? the table? perhaps the number of monkeys? You noticed that they were on the table. I felt like Sister Wendy with a refreshing breeze blowing up my habit.
But then, on the very next landing, this: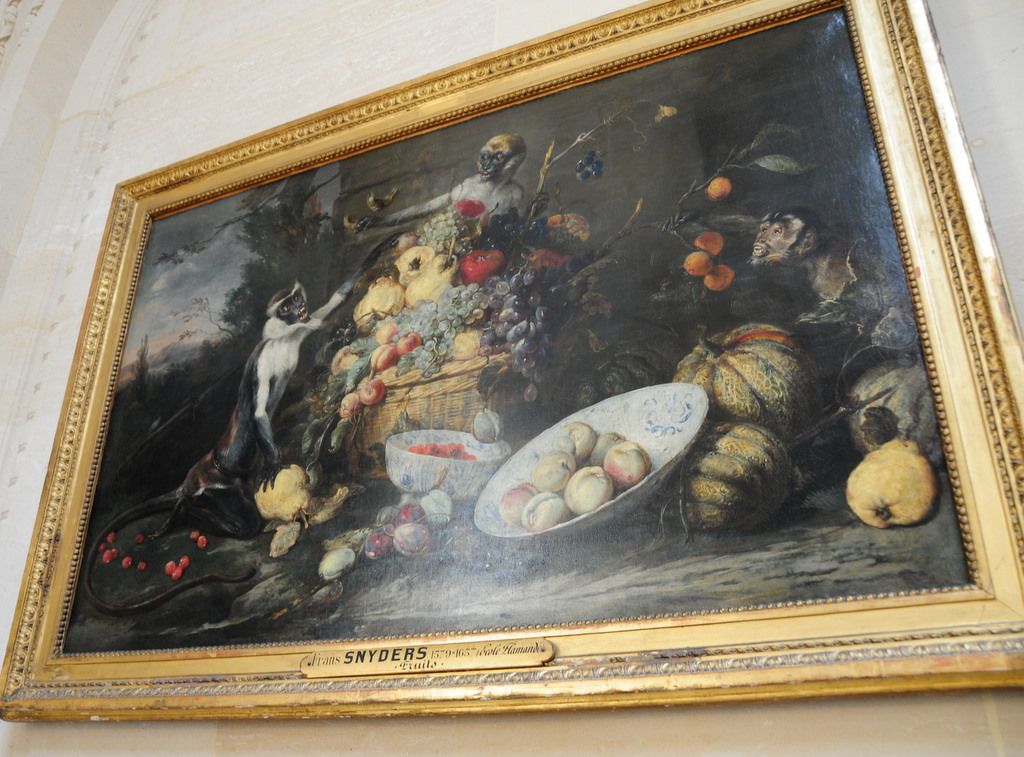 That's right THREE! Three fucking monkeys on the motherfucking table. Or "Trois singes sur la Table," as I pointed out to all who would listen. Several German people hurried away, even as I followed them up the stairs, pointing out the exact number of monkeys and where, exactly, they were located. (sur la table! sur le table!). Germans have a well-known fear of monkeys, so I forgave them, but how could the guards, the docents, indeed, the skinny guy with the mace and the helmet, not see the importance of such a major work of art? (Frans SNYDER, by the way, Dutch,early 17th Century.) Then they all turned, like pod art people from Invasion of the Body Snatchers, and pointed to this huge piece, which hung in the same stairwell as the various monkeys on the tables.

They might as well have served Leda a big thanksgiving roasted swan and rubbed its greasy, tumescent giblets in her hair. EVERY-FUCKING-THING was on the table. And, I didn't know how to say any of that stuff? Hell, I didn't even know what most of that stuff was. And it wasn't all "sur la table" like any self-respecting monkey, it was "sous la table" it was all over the place. I hung my head and and mumbled, "Well, fuck you, smug art ninjas, cinque singes sur la table. Cinque!" With equal fluency in both languages. And I skulked away to the Starbucks in the basement of the Louvre to wallow in my own artistic inadequacy.
Sure, I could learn to say, "The evicerated eagle ray is on the table," in French, but when is that ever going to come in handy? I'm going to have to wander the earth waiting to identify that, and it's let's face it, it's not ever going to be like the monkeys. We always remember our first monkeys.
Gotta go.
Next time we'll have a short visit from this guy, who we haven't seen in a couple of years.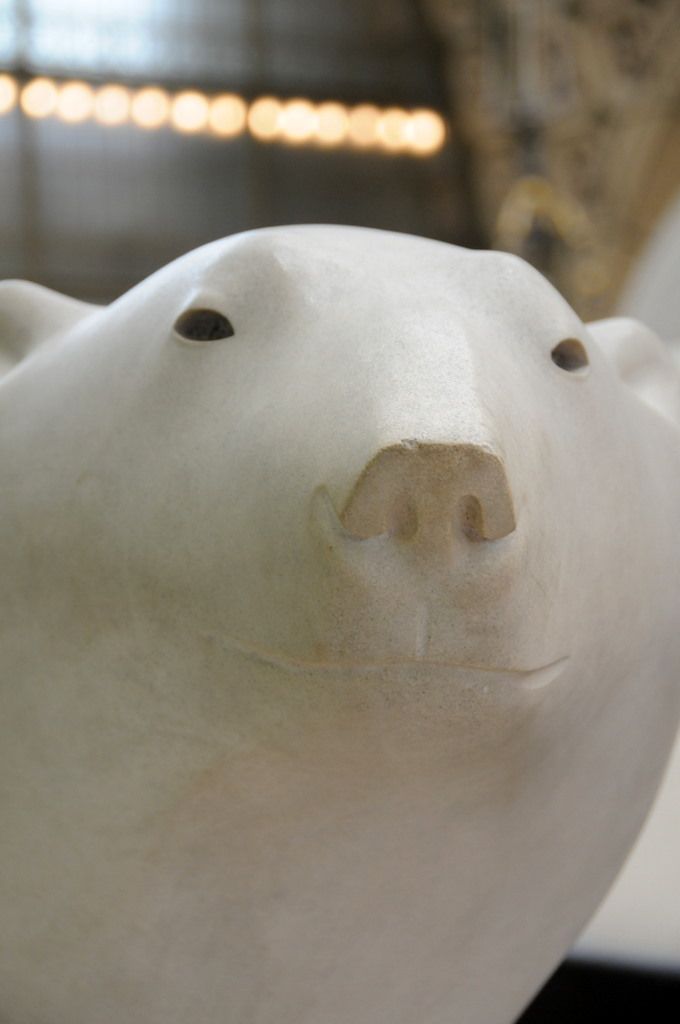 BON JOUR!
*Yes, I learned that from Eddie Izzard. Didn't everyone?